Snellville Family Dental
Dental Bridges
See Why We're Rated 5 Stars
Snellville Family Dental is a General Dental practice that also provides specialist procedures. Located in Snellville, GA, we proudly provide the area with exceptional dental care while using the most up to date and cutting edge procedures. We also have in house dental specialists who offer advanced dental services, typically only offered at specialist offices, such as root canals, teeth extractions, clear smile aligners, and dental implant placements. We also perform all aspects of general dentistry, such as teeth cleanings, fillings, dental crowns, dental bridges, and dentures. This diverse offering means that you do not have to be referred to a specialist and you do not have to go to another dental office. Get all of your dental work, big or small, done in one office.
What Are Dental Bridges?
Dental Bridges are used to fill gaps caused by a missing tooth. A crown is placed over the teeth on either side of the gap of the missing tooth and a false tooth, or a pontic, is attached to either side of the crowns. This creates a bridge anchor system allowing the crowns to hold the false tooth in place over your missing tooth. Typically the false tooth is made out of porcelain to blend in best with your teeth but it can be made of a number of different materials, like gold. 
When is a Dental Bridge Necessary?
Typically, a patient will choose to get a dental bridge if they have missing teeth in their mouth, and they need to fill the gap. For the most part, bridges are a cosmetic solution to missing teeth, but there are other reasons to get a bridge. In addition to replacing a missing tooth, a dental bridge can hold teeth on either end of the spot of the missing tooth and prevent them from shifting. Though they do not go into the gums like dental implants, bridges can also prevent the supra-eruption of other teeth. This occurs when the tooth opposite the site of the missing tooth begins to erupt from the socket. Consequently, the patient may end up having more than one tooth that is missing.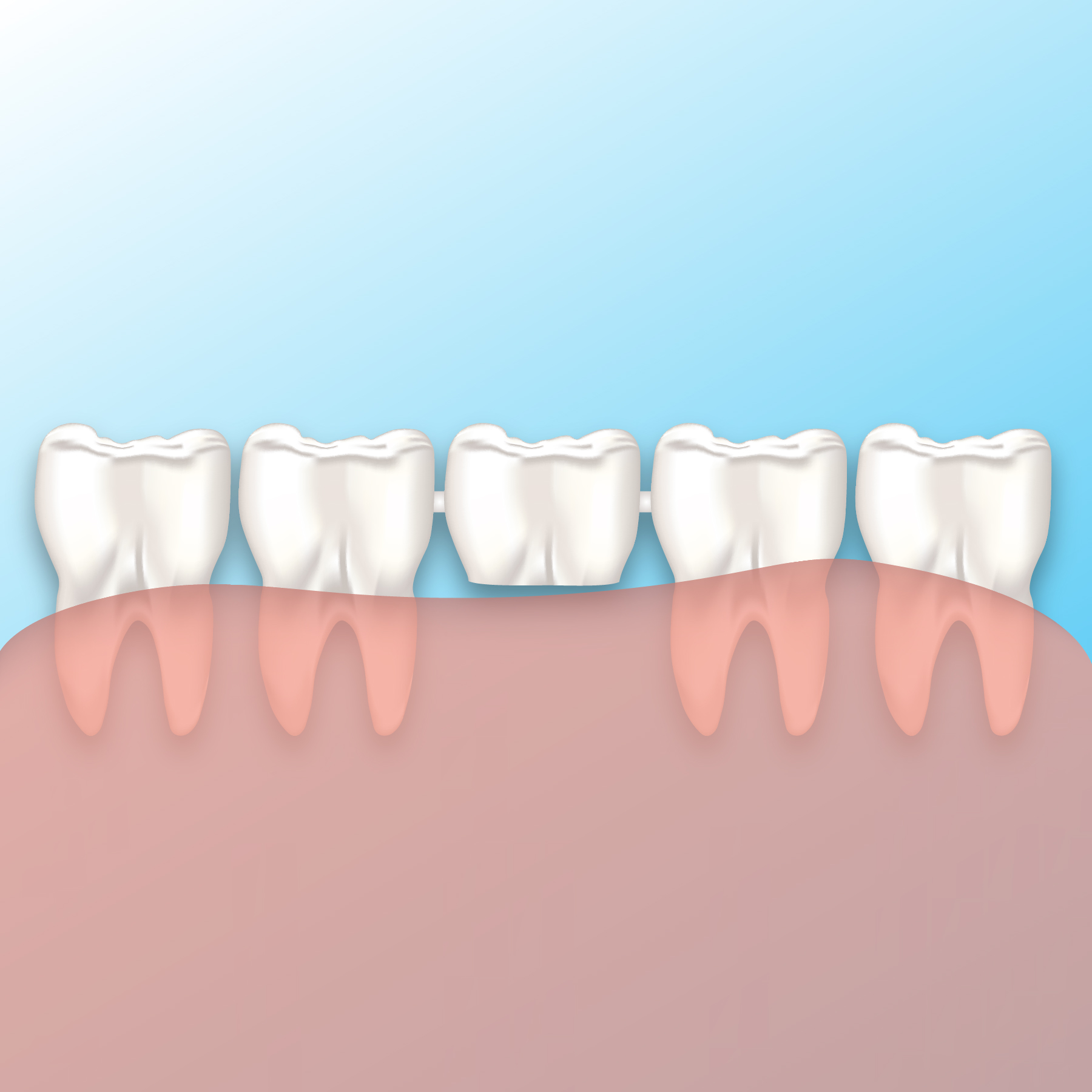 What Are The Benefits of Dental Bridges?
Dental Bridges are a great option for missing tooth replacements for a number of reasons. They have been apart of modern dentistry for a number of years and are still looked at as a primary option for tooth restorations. Dental Bridges give you the ability to smile confidently and safely
Some of the Advantages of Dental Bridges:
Dental Bridges are lightweight allowing for great chewing comfort.
Re-distribute and correct the bite forces caused by your missing teeth.
Prevents nearby teeth from shifting out of place.
Typically only two appointments are needed to complete the procedure.
Prevents sagging of your face caused by missing teeth.
Dental Bridges can last you a long time if taken care of properly.
Ready for a consultation? Call us (770) 800-7545
More than 190 5-Star Reviews on Intuit Local Businesses
Different Kinds of Bridges
There are three main kinds of dental bridges. Depending on the patient's specific needs and preferences, the Doctor will suggest the best option for the patient. Unlike dental crowns, dental bridges vary in the way they are applied to teeth, rather than the materials the bridges are made out of.
Traditional Bridges
This most common method is accomplished by creating a crown for a tooth or implant on either side of the tooth that is missing. Initially, this involves preparing the two intact teeth by shaving them down to prepare them for the crown. Most importantly, this type of bridge has a pontic, which is the word for the tooth in between the two anchoring crowns, and it is made of porcelain. Similarly to crowns, the porcelain is often fused to metal or ceramics.
Cantilever Bridges
Unlike traditional bridges, these dental bridges are used when there is only one adjacent tooth on one side of the missing tooth. However, these are not common and are not recommended when the missing tooth is in the back of the mouth. Due to the potential for damaging other teeth, cantilever bridges are recommended for teeth that do not bear much weight.
Maryland Bonded Bridges
Though these are the least common of all the different bridge options, they are the least invasive option for patients looking to get a bridge. Similar to traditional bridges, there is a false tooth that is placed to replace the missing tooth. However, the pontic attaches to the adjacent teeth by "wings" that adhere to the backs of the teeth to hold the false tooth in place. Unlike traditional bridges, this option is less stable, but it is less invasive and does not require extensive preparation for the crowns to hold the bridge in place.
Process for Getting a Bridge
First Visit: At the initial visit your Provider will prepare the abutment teeth. This preparation will involve the recontouring these teeth, by removing some of the enamel to make room for the crown that will fit over them. Then, impressions of these teeth will be made, and this will serve as a model for the dental lab to manufacture the bridge, including the pontic and crowns. Next, your Provider will fashion a temporary bridge to protect the exposed portion of your teeth and your gums while these bridge parts are being made.
Second Visit: The temporary bridge will be removed to make way for the new, permanent bridge. The new bridge may require a few adjustments to get the perfect fit. As a result, more visits to the office may be required to check the fit, and to check on your bite.
How Long Does A Dental Bridge Procedure Take?
In most cases, dental bridges are done in two procedures. This will require two visits at a minimum until the procedure is done. The visits are done two weeks apart from each other and take anywhere from an hour to an hour and a half to be completed.
Pricing
Though the pricing can vary greatly due to the type of bridge placed, the most important factor for patients is insurance. Often, insurance companies will cover a portion of the work done for a dental bridge. However, the actual amount that is covered is entirely determined by your insurance company and specific dental plan. Out of pocket pricing for dental bridges typically ranges from $2100-$4500 for the entire treatment. Although this seems to be a lot, these costs are usually spread out over the course of the entire treatment, which can last up to three months.
Prices listed below do not include coverage that patients may have from their dental insurance. Many insurance plans use a 100-80-50 format of coverage, which means preventative care is covered at 100%, basic procedures at 80%, and major procedures at 50%. However, benefits will vary depending on the patient's specific plan, so patients should contact their insurance company for exact coverage. At Snellville Family Dental, we will submit dental insurance claims as a courtesy to our patients.
| Procedure | Price |
| --- | --- |
| Extraction – Simple | $153 |
| Extraction – Surgical | $248 |
| Abutment Crown | $800 ($1600 for both) |
| Bridge Pontic | $1,075 for each |
| Implant | $1500 |
How Long Do Bridges Last?
Usually, dental bridges can last anywhere from 5 to 15 years, depending on how well they are cared for.
Though, if patients practice good oral hygiene, and get regular check-ups with the dentist, they can last longer than 15 years. Additionally, it is important for patients to not apply too much force onto the prosthetic on a daily basis. As long as the bridge is kept attached to the prepared teeth, the patient will not need any further treatment to maintain the health of the teeth below.
Other Options for Missing Teeth
Dental bridges are a common solution to missing teeth, but patients should be aware that there are other options available. Depending on each patient's specific case, a dental bridge may not be the best solution to a missing tooth.
Dental Implants
Dental Implants are one option to recover a full smile. Implants offer a natural-looking solution that is easy to care for, long-lasting and looks great! Unlike fixed bridges or removable dentures, dental implants will not affect neighboring teeth, lead to the loss of bone support, or contribute to sagging of the soft tissues of the face. Additionally, bridges cannot help prevent the bone loss that is caused from missing teeth, which dental implants can. When appropriately cared for, dental implants can last a lifetime. See our page on ​Dental Implants​ for more information on this procedure.
Dentures
Dentures are removable replacements for teeth that are missing. There are two available types: complete and partial. Complete dentures are one of the solutions when a patient is missing all their teeth or needs to have all their teeth extracted. Conversely, partial dentures are used for when some natural teeth remain intact. Nevertheless, both sets of dentures are solutions when several, or all of your teeth are no longer viable and cannot be saved by any other normal dental procedures. See our page on ​Dentures​ for more information.
Implant-Supported Dentures
Implant-Supported Dentures are a viable option for dentures while avoiding the potential problems of traditional dentures. For example, in this procedure a few implants are placed strategically around the mouth and then the denture anchors to the implants. With an implant supported denture, there is much less bone loss than with a traditional complete denture since the implants will still make use of the bone. Moreover, the implant-supported denture will also be much more stable when eating.
Aftercare for a Temporary Bridge
Temporary dental bridges are meant only to serve your needs while a permanent bridge is being made for you. Although we make the temporary bridge to resemble the final bridge, it may not look exactly like the permanent one. It is not unusual to have some temperature sensitivity while the temporary bridge is in place. This will, in most cases, be relieved by the replacement of the temporary with the permanent bridge. Taking over the counter pain relievers such as Tylenol or Ibuprofen should handle any post treatment discomfort. It may be a good idea to take one of these immediately after the appointment before you experience any discomfort.
After the procedure, the temporary cement requires about 30 minutes to set, so it is important to not chew during that period of time. Once set, patients should be able to use the temporary bridge normally when eating, but sticky foods will stick to the temporary bridge and must be avoided.
Temporary Bridges Are Not Meant to Last Forever
Temporary bridges are not strong; they may occasionally become loose, break or come off. Though this is not a dental emergency, please contact our office immediately, bring your bridge with you and we will replace or re-cement the temporary bridge. If this happens at night or on the weekend, replace the temporary bridge on your tooth after filling the bridge with toothpaste, Vaseline, or Fixodent to hold it in place until you can contact us to properly cement it. It is important that the temporary bridge remains on the tooth to protect the underlying tooth structure. Without the temporary bridge, your teeth may move and then the permanent bridge may not fit.
Moreover, it is important to clean around the temporary crown as you would any other tooth, but not to brush or floss too vigorously around the temporary bridge. Patients should understand that it is essential to keep the area clean and healthy, and to keep it from bleeding.
It is also imperative that patients return to our office at the appointment time to receive the permanent bridge. Failure to do so may result in the need to re-prepare the tooth and re-make the crown at the patient's cost.
If patients have any unusual developments with their temporary bridge, please contact our office​.
Aftercare for a Permanent Bridge
Once permanent dental bridges are placed, patients should be aware of a few things to best care for the new bridge. It is important to not chew on hard food with the restorations for 24 hours from the time they were cemented; to attain optimum strength, the cement must cure for approximately 24 hours.
Sensitivity is common after a permanent bridge is placed, especially to hot or cold foods. This sensitivity will disappear gradually after a few weeks. Infrequently, sensitivity lasts longer than six weeks. Please notify us if this occurs.
Overall, to provide optimum longevity for restorations and to prevent future dental decay and supporting tissues breakdown, our Doctors may recommend the following preventative procedures:
Brush and floss after eating and before bedtime.
Rinse with a fluoride wash, swish vigorously for at least 30 seconds daily.
Use fluoride toothpaste if prescribed by our office.
Use a WaterPik or a mechanical toothbrush as advised by us.
The most significant reason for prosthesis failure is inadequate return for examination. Visit us at regular examination periods determined by your Doctor. Often problems that are developing around the restorations can be found at an early stage and corrected easily, but waiting for a longer time may require redoing the entire restoration.
Call us immediately if any of these conditions occur:
A feeling of movement or looseness in the restoration.
Sensitivity to sweet foods.
A peculiar taste from the restoration site.
Breakage of a piece of material from the restoration
Sensitivity to pressure
Frequently Asked Questions
Until you get used to chewing with your new dental bridge avoid hard foods and taking large bites. Be sure to avoid really sugary foods because they contribute to plaque building which will allow for unwanted bacteria to buildup on your bridge.
The better you take care of your teeth, the longer your bridge will last. You do not have to do anything outside of normal care for you teeth. Just make sure practicing consistent daily tooth care. This includes brushing and flossing your teeth as well as dental check ups and cleanings every six months.
A dental bridge can replace can one tooth or as many as three missing teeth that sit next to each other on either side.
Your bridge can last as many as 15 years or even longer if taken care of properly. While we cant guarantee you a length of time that your dental bridge will last, they are built for long term use.
A dental bridge is a fixed dental prosthetic, meaning, that it cannot be removed. It cannot be removed because it is bonded to your teeth. If you are looking for a removable option then you might want to consider dentures instead.
Take the First Step Toward a Healthier Smile
Snellville Family Dental has been providing exceptional dental care for over 30 years. Our dental professionals have restored countless smiles. Our Licensed dentists work with you and their team of experienced lab technicians in Snellville, Georgia to give you the best possible solution for your missing teeth.
Imagine how much more confident you will be with your brand new restored teeth. Smile confidently knowing that you made the best possible decision for you and your teeth.
If you want to learn more about treatment for dental bridges and missing teeth, or any of our other dental restorative procedures, ​Contact Us ​for your Dentistry needs.
WE WORK WITH MOST INSURANCES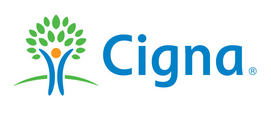 Candice
Patient Coordinator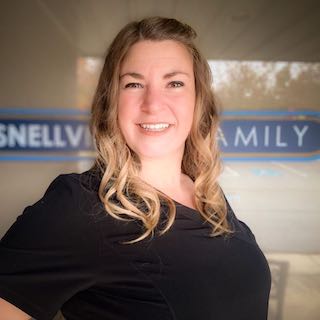 Jennifer
Dental Assistant, RDA
Michelle
Dental Assistant, RDA
Rosy
Dental Assistant, RDA