Snellville Family Dental
Mouthguards
See Why We're Rated 5 Stars
Snellville Family Dental is a General Dental practice that also provides specialist procedures. Located in Snellville, GA, we proudly provide the area with exceptional dental care while using the most up to date and cutting edge procedures. We also have in house dental specialists who offer advanced dental services, typically only offered at specialist offices, such as root canals, teeth extractions, clear smile aligners, and dental implant placements. We also perform all aspects of general dentistry, such as teeth cleanings, fillings, dental crowns, dental bridges, and dentures. This diverse offering means that you do not have to be referred to a specialist and you do not have to go to another dental office. Get all of your dental work, big or small, done in one office.
What are mouthguards and why do I need one?
Mouthguards are special protective coverings for your teeth to help minimize the risk of tooth injury during sports. They can also help protect your lips, face, jaw and tongue from injuries. A mouthguard normally covers your upper teeth.
"A mouthguard should be on the must-have list of your sports gear from an early age," says Dr. Nabi and Dr. Socoloff at Snellville Family Dental. Remember, athletes are at higher risk of teeth and mouth injuries. A mouthguard is an essential item for people of all ages.
What are the types of mouth guards?
There are three types of mouthguards:
Custom-made mouthguard: This will be fabricated in a lab, based on dental impressions taken by Dr. Nabi or Dr. Socoloff. They are specially customized to each patient, so they will fit you perfectly. These are usually the longer lasting of the mouthguard options.
Stock mouthguard: A stock mouthguard is not customized for you. You can wear it right after buying it. Stock mouthguards do not fit well in most cases. Though they are not costly, but can be uncomfortable, plus they may interfere with breathing and talking.
Boil and bite mouth protector: These mouth protectors are semi-customized, meaning that they are first made soft by dipping in boiling water, and then put in your mouth so that they adapted to your mouth. These protectors come in bulk and are available at sports goods shops and drugstores. Boil and bite mouth protector is better than stock mouth protector.
Why is it wise to use a mouth guard when playing sports?
Remember, accidents can happen any time during sports; therefore, it is wise to use a mouthguard. The protector can help decrease the risk of mouth and teeth injuries. They can also protect your soft tissues and ward off the chance of broken or chipped teeth. Studies have also shown that professionally manufactured mouthguards can even reduce the effects of concussion.
I am wearing braces. Can I wear mouthguard?
If you are wearing braces, it becomes even more important for you to wear mouth guard because a blow to the face or mouth has the potential to damage your braces and other fixed bridge work. Your Provider can best determine the type of mouthguard you should wear if you are wearing braces.
How should I care for my mouth guard?
Below are some tips on how to care for you mouthguard:
Wash your mouthguard before and after each use. You can even use toothpaste and a toothbrush to clean it, just like you do with your teeth.
Wash the mouthguard in soapy, cold water from time to time.
Store the device in a good container.
Avoid leaving the mouthguard in the sun or in hot water.
Always examine your mouth guard for wear and tear, so you can replace it.
How to get a mouthguard in Snellville, GA?
Remember, the best mouth and teeth protection tool is a custom-made mouth guard. If you live in the Snellville, GA, area, you are in luck because Our Providers have extensive experience making custom mouthguards. He has already made mouthguards for thousands of people. Custom-made mouthguards are easy to wear, and your Provider will take measurements of your mouth so that the resulting mouthguard will not cause any discomfort for you during sports.
If you prefer to wear other types of mouthguards, Dr. Nabi or Dr. Socoloff can help you with that too. He will thoroughly examine your mouth and teeth, and then recommend the mouthguard you should wear. He can give you his expert opinion on whether to wear a stock mouthguard or a boil-and-bite mouth protector.
Moreover, if you wear braces or other fixed dental tools, your Provider can create the best mouthguard for you that would perfectly cover your fixed apparatus and protect you from the risks of injury. Normally, mouth guards are required for the upper jaw, but if you are also wearing braces on the lower teeth, your Provider may recommend you wear a mouth guard on the lower teeth as well.
How Much Does a Mouthguard Cost?
The price of your mouthguard depends on the type of mouthguard that you are getting. A custom made mouthguard can cost anywhere from $300 – $500. A stock mouthguard can cost anywhere from $100-$200 while you can buy a boil and bite mouth guard for less than $20. Remember, some of the cheaper options are not going to be custom molded to fir your mouth so they may not fit your teeth as well as you would like.
| Type of Mouthguard | Price |
| --- | --- |
| Custom Fitted Mouthguard | $300 – $500 |
| Stock Mouthguard | $100 – $200 |
| Boil and Bite | $20 |
Will A Mouthguard Prevent Me From Grinding My Teeth At Night?
Most people grind their teeth at night without even realizing it. A little bit of teeth grinding is common but when it begins to occur on a regular basis your teeth can begin to get damaged. A variety of things can cause you to grind your teeth like stress, anxiety, an abnormal bite, or missing or crooked teeth. Sleep apnea is also another major cause of tooth grinding. 
If grinding your teeth at night is an ongoing problem for you then getting a mouthguard it very important to preserve the integrity and structure of your mouth. Long term grinding can cause teeth to wear down and become lose.
Protect Your Teeth Today With Mouthguards!
No one wants to have a sports injury happen to them, but when they do happen you want to be prepared. Mouthguards are your first and only line of defense against damaging your teeth when you're active. Come in and see us today at Hammond Dental so our expert dental technicians can evaluate the condition of your mouth and give you the best treatment plan available. Contact us anytime for a consultation.
Ready for a consultation? Call us (770) 800-7545
More than 190 5-Star Reviews on Intuit Local Businesses
Candice
Patient Coordinator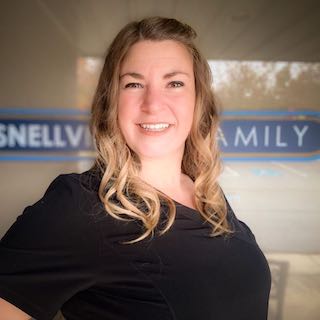 Jennifer
Dental Assistant, RDA
Michelle
Dental Assistant, RDA
Rosy
Dental Assistant, RDA
WE WORK WITH MOST INSURANCES