Snellville Family Dental
Preventative Dentistry
See Why We're Rated 5 Stars
Snellville Family Dental is a General Dental practice that also provides specialist procedures. Located in Snellville, GA, we proudly provide the area with exceptional dental care while using the most up to date and cutting edge procedures. We also have in house dental specialists who offer advanced dental services, typically only offered at specialist offices, such as root canals, teeth extractions, clear smile aligners, and dental implant placements. We also perform all aspects of general dentistry, such as teeth cleanings, fillings, dental crowns, dental bridges, and dentures. This diverse offering means that you do not have to be referred to a specialist and you do not have to go to another dental office. Get all of your dental work, big or small, done in one office.
Preventative Dentistry is Key for Good Oral Health
People are terrified of the dentist and will avoid it at all costs. They've heard stories from friends or family members about bad or frightening in-the-chair experiences or lengthy dental surgical procedures. The sad thing is that these experiences were likely the result of not seeing a dentist regularly as well as not practicing good at-home oral hygeine, and could have been prevented from getting to that degree. Regular dental check-ups at least every six months, easily take care of issues likely to become bigger, harder-to-take-care-of, and potentially more painful issues.
Preventative dentistry works by preventing these things from occurring in the first place or at least lessening the severity of dental problems by catching them at earlier stages when treatment is much simpler and less expensive, as well. Preventative dentistry also focuses on your daily habits and their ability to prevent you from having dental issues.
What is Preventative Dentistry?
Preventative dentistry is what you do to take care of your teeth on a daily basis to help them stay healthy and strong. This prevents you from developing gum disease, cavities, enamel wear, and anything else related to poor dental health.
These practices are put in place so that your teeth stay clean and strong. Teaching these practices at an early age will enable kids to form a strong habits and keep them throughout their adult life. When your children see you take good care of your teeth, they are going to do the same. Make sure to brush and floss your teeth at least once a day.
Best Practices for Healthy Teeth
Visiting Your Dentist
One of the most important things you can do to do be sure that your teeth are staying healthy and strong is visiting your dentist for your regular check-ups and tooth cleanings. At your dental appointment, your dentist will examine your teeth and gums to make sure there is no infection as well as take x-rays to make sure that has not been any drastic shifting in your teeth. Your dentist will also scrape and clean hard to reach places in your mouth that cannot be cleaned well with at-home dental care. Plaque build-up in the back of your mouth is very common and contributes to bad breath as well as tooth and gum infections.
Brushing Your Teeth
There are different things that you can do to keep your mouth healthy, like brushing your teeth each day.
The thing that you should focus on each day is making sure that you brush your teeth with a fluoride toothpaste that is approved by the ADA (American Dental Association). You should also replace your toothbrushes about three to four times a year or if you start to see fraying in the bristles. A worn toothbrush won't help you keep your teeth clean and could actually do harm to your teeth so make sure you've replaced it when needed.
Flossing
So many people neglect to floss, but it's really critical for complete oral health. Flossing once a day helps to clean the spaces between your teeth. The bristles on your toothbrush cannot reach into the deep cavities in between your teeth so to get a thorough cleaning of your teeth flossing is necessary. If you have braces you might have to use floss threaders so that you can get between the metal brackets.
Eating a Balanced Diet
You can keep your teeth strong and healthy in between dental check-ups by eating a balanced diet to provide teeth, gums, and bone with the nutrition they need. Limiting your sugar intake is also a big factor in keeping the health of your teeth in check.
Who Will Benefit from Using Preventative Dentistry?
Everyone can benefit from preventative dentistry — children, teens, adults, seniors. Good oral care and observation can ensure that adult teeth come in properly and in the right alignment with the jaw as well as prevent a wide of dental infections and disease from spreading.
The health of our bodies is directly connected to our oral health. Healthy and intact teeth can allow us to eat properly and break down food into small enough pieces for our gut to handle. Not only that but a nice clean smile is a huge builder of confidence.
Our mouth is a breeding ground for harmful bacteria which studies have shown can affect cardiovascular and respiratory health and other systems. Having a clean mouth doesn't just affect your teeth and smile but is important for your overall health and well being. 
Even if you aren't experiencing any challenges in your mouth right now, you should contact your dentist. Just because you don't feel any pain, doesn't mean your teeth are perfectly healthy. Pain and sensitivity often don't  start occurring until later stages of oral decay and infection. Many people make the mistake of waiting too long to see treatment or neglecting their regularly scheduled dental check-ups.
Taking an active part in preventative dental care with Snellville Family Dental right now is very important to make sure you and your teeth are at their best. 
Contact Us today and speak with the friendly and experienced staff at Snellville Family Dental so that you can start on your road to a happier and healthier smile. For an appointment or more details, Contact Us for all of your general and preventative dentistry needs.
Ready for a consultation? Call us (770) 800-7545
More than 190 5-Star Reviews on Intuit Local Businesses
Candice
Patient Coordinator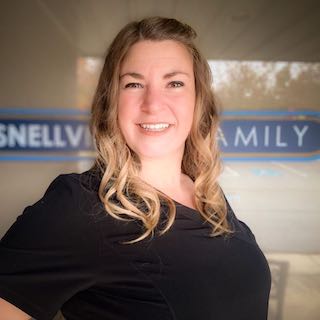 Jennifer
Dental Assistant, RDA
Michelle
Dental Assistant, RDA
Rosy
Dental Assistant, RDA
WE WORK WITH MOST INSURANCES