Snellville Family Dental
Smile Makeover
See Why We're Rated 5 Stars
Snellville Family Dental is a General Dental practice that also provides specialist procedures. Located in Snellville, GA, we proudly provide the area with exceptional dental care while using the most up to date and cutting edge procedures. We also have in house dental specialists who offer advanced dental services, typically only offered at specialist offices, such as root canals, teeth extractions, clear smile aligners, and dental implant placements. We also perform all aspects of general dentistry, such as teeth cleanings, fillings, dental crowns, dental bridges, and dentures. This diverse offering means that you do not have to be referred to a specialist and you do not have to go to another dental office. Get all of your dental work, big or small, done in one office.
Do You Need A Smile Makeover?
Do you avoid smiling in public places, and for photos? Do you ever hold your hand in front of your mouth when talking or laughing? Those days are over, you can regain your smile and confidence with these simple dental procedures. Snellville Family Dental has been repairing and saving smiles for the whole family for over 30 years. You can feel confident that you are inexperienced hands that will get your teeth looking exactly how you want them.
Smile Makeover Considerations
Several things must be taken into account when considering a smile makeover. The color of your skin and hair play big factors in the look of your teeth as well as other aesthetic and physical features.
Please consult with your dental specialist about the below considerations before getting cosmetic dental work:
Skin Tone
Facial Appearance
Hair Color
Tooth Shape
Gum Tissue
Lips
Tooth Color Makeovers
If your teeth are stained or discolored from food or drinks like coffee, a teeth whitening procedure can get your teeth sparkling again. Even if you have silver dental fillings, they can be replaced with a natural, tooth-colored filling. You may also want to consider dental veneers, crowns, bridges, bonding, or implants but these are seen as more permanent and expensive procedures.
Dark or discolored teeth can make you look older than you really are, while a perfect, white, and restored smile will make you look younger and you'll feel more confident. The shade of color for your teeth can be determined by you and your dentist when it is evaluated in context with the tone and color of your face and hair.
Spacing and Alignment
Crooked teeth, teeth that overlap, or that have gaps between them can all be corrected and aligned with the help of orthodontics, clear smile aligners or by the use of dental veneers.
Missing Teeth
One or more missing teeth can have a negative impact on your appearance and your self-esteem. It can also have an effect on your bite and increase the risk of tooth decay. This can be corrected with dental implants, partial dentures, or bridges. Each has its own costs and benefits so speak with your dental practitioner to find which option works best for you.
Balance and Harmony
Chipped teeth, cracked teeth, or uneven teeth can be hard to look at. These conditions can be fixed with cosmetic bonding.
Fuller Lips, a Bright Smile, and Attractive Cheeks
A face that looks aged, or has a sunken appearance can also be improved upon. There are procedures that are proven to reverse these conditions including oral maxillofacial surgery, and orthodontics.
The experienced cosmetic dentists at Snellville Family Dental will work hard with you to develop a plan of treatment for your smile makeover. Feel confident knowing that Snellville Family Dental has assisted with countless successful smile and tooth restorations. The plan may have a number of components of treatment including teeth whitening, dental bonding, dental veneers, dental crowns, orthodontic procedures, and more. It all depends on the desired results.
Smile Makeover Aesthetic Components
There is more to a perfect smile than just the color, alignment, and balance of your teeth. There are attributes your cosmetic dentist will evaluate when planning your treatment.
Length of Your Teeth
Longer teeth give a more youthful appearance. Aging tends to wear down teeth, and a smile makeover may include reshaping and/or lengthening your teeth.
Smile Line
The smile line can be thought of as an imaginary line that follows the edge of your upper teeth, from one side to the other. It should be the same as the curve of your lower lip when you smile. This is one of the determining factors when a cosmetic dentist is deciding how long your teeth should be.
Tooth proportions
Your teeth should be in proportion with each other. A pleasing smile is usually recognized as one in which the front teeth dominate, and have a width to length ratio of 4:5.
Tooth Characterization and Texture
A skilled cosmetic dentist is an expert at blending functionality and aesthetics. They can make your teeth look more masculine or feminine, and give you a natural look and feel.
Get the Smile You've Always Dreamed of  Today
Our dentists at Snellville Family Dental, are experts in smile makeovers, having done hundreds over the years. They work with a staff of experienced dental lab technicians to create natural-looking results with all of our dental restoration and cosmetic procedures. Your teeth after the smile makeover procedure will look, feel, and function like the rest of your natural teeth.
If you want to learn more about smile makeovers, or any of our other dental restorative procedures, please feel free to Contact Us our office, and schedule a consultation with one of our expert dentists.
Ready for a consultation? Call us (770) 800-7545
More than 190 5-Star Reviews on Intuit Local Businesses
Candice
Patient Coordinator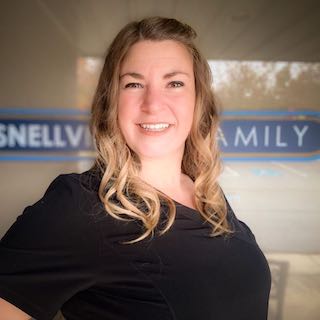 Jennifer
Dental Assistant, RDA
Michelle
Dental Assistant, RDA
Rosy
Dental Assistant, RDA
WE WORK WITH MOST INSURANCES