Snellville Family Dental
TMJ Treatment
See Why We're Rated 5 Stars
Snellville Family Dental is a General Dental practice that also provides specialist procedures. Located in Snellville, GA, we proudly provide the area with exceptional dental care while using the most up to date and cutting edge procedures. We also have in house dental specialists who offer advanced dental services, typically only offered at specialist offices, such as root canals, teeth extractions, clear smile aligners, and dental implant placements. We also perform all aspects of general dentistry, such as teeth cleanings, fillings, dental crowns, dental bridges, and dentures. This diverse offering means that you do not have to be referred to a specialist and you do not have to go to another dental office. Get all of your dental work, big or small, done in one office.
TMJ Treatment at Snellville Family Dental
If you're one of the thousands of people who suffer from TMJ dysfunction or discomfort, it is extremely important to have regular dental visits are more important now than ever if you suffer from TMJ. It is known that women between the ages of 18-44 are at particularly high risk for this disorder. Also, people with arthritis also may be more susceptible.
What is TMJ?
TMJ (or TMJD or TMD) is a disorder of the temporomandibular joint. This joint is the pivot point between the jaw and the temporal bones of the skull. The temporal bones are located in front of the ear. Put your fingers under your temples directly in front of your ear and then open and close your mouth. The motion that you feel is the joint. With abuse, injury, or overuse, this joint can become inflamed and will cause pain and stiffness.
What are the symptoms of TMJ?
There are many symptoms of TMJ that can occur in a number of different areas. You may experience:
Pain in the joint area as well as swelling;
Pain in the ear, temple, or neck;
A clicking noise when you open your mouth;
Some restriction in movement of the jaw;
Popping sounds in your ear;
Headaches are also common;
Lockjaw, either open or closed, and even jaw dislocation.
Many of these symptoms can also be signs of other illnesses or disorders as well. This is why it is important to talk to Dr. Nabi or Dr. Socoloff about TMJ treatment if you are experiencing any of these symptoms and let him decide if you need to seek the help of a physician as well.
What causes TMJ?
There are many things that may cause TMJ. Those include:
Misalignment and malalignment of the teeth or jaw which puts stress on the temporomandibular joint;
Grinding and clenching of teeth which may lead to tired jaw muscles and tendons;
Poor posture in your neck and shoulders;
High stress which may lead to muscle tension or jaw clenching which can cause a flare-up of this syndrome;
Chewing gum which may cause your jaw muscles to get tired which may lead to strain in the muscles, tendons, and ligaments, as well as gradually wear away the cartilage in the joint;
Injury to the teeth or jaw.
Any of these events can either cause enough strain on your joint to lead to inflammation and pain. Visit Snellville Family Dental to discuss any of these issues you may be having. He may be able to give you some suggestions about what you could do to help you alleviate the effects on your jaw.
Possible TMJ Treatments
There are many things you can do to try to alleviate the symptoms of TMJ. There are some home remedies you can try.
Use ice packs to reduce swelling and pain in the joint area;
Massage the area in a circular motion to try and relax the muscles that are in spasms;
Routine jaw and neck muscle stretches to strengthen the muscle and make them more flexible thus reducing the possibility of a flare-up;
Avoid chewing gum repeated for long periods of time;
Eat soft foods during a flare-up;
Taking over-the-counter anti-inflammatory medications to help reduce the pain and inflammation to the joint area.
If none of these work, Contact Us and set up an appointment to see him for possibly getting fitted for a dental splint. The splint is like a mouth guard that will prevent teeth grinding and also help align your teeth and jaw which may reduce the inflammation in the joint. Your Provider may also suggest physical therapy and even some prescription medication such as muscle relaxants, NSAIDs, or steroids to reduce the pain and inflammation.
Preventative measures for TMJ Problems
There are many things you can do to possibly prevent TMJ from occurring in the first place or reduce the chance of a flare-up. First of all,
Avoid chewing gum for long extended periods;
Try to maintain good posture and keep your jaw properly aligned on your face, this may require the help of orthodontics.
Find some stress-relieving activities that work for you and practice them regularly to reduce stress-induced jaw clenching;
Talk to Dr. Shariff about using a dental splint if you are a teeth grinder.
Dental visits with Dr. Nabi or Dr. Socoloff are vital if you suffer from TMJ. Not only can he help you with the problems of TMJ, but your Provider also will keep your teeth and gums healthy. TMJ may cause you to not be able to take as good care of your teeth because you may not be able to open your mouth as wide (reduced range of motion).
Routine visits to your Provider are important to ensure your teeth and gums stay healthy. For appointment or more details, please Contact Us at Snellville Family Dental.
Ready for a consultation? Call us (770) 800-7545
More than 190 5-Star Reviews on Intuit Local Businesses
Candice
Patient Coordinator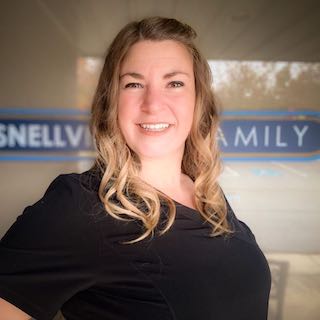 Jennifer
Dental Assistant, RDA
Michelle
Dental Assistant, RDA
Rosy
Dental Assistant, RDA
WE WORK WITH MOST INSURANCES